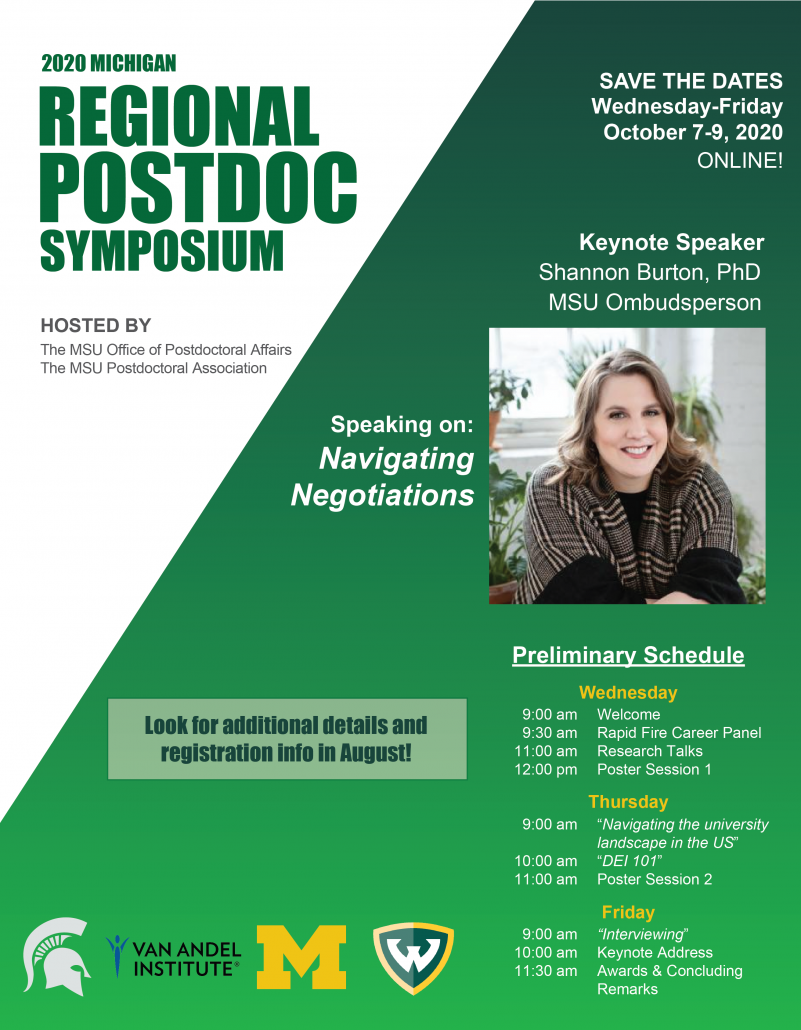 0
Days
0
Hours
0
Minutes
0
Seconds
Registration & Abstract Submission is now open!
Click here to register for the 2020 Michigan Regional Postdoctoral Symposium. It's FREE!
Abstract submission during the registration process is optional, but you must register by August 28th, 2020 at 11:59PM EST in order to be considered for the Research Talk Competition or to be included in the poster presentations.
Registration to attend, without presenting, is open now until the symposium.
Details on how to join the virtual meeting and how prepare your presentations will be sent to registered attendees closer to the symposium date.
Resource Fair Committee
Chair:
Dr. Aaron Reifler, Director, Office of Postdoctoral Affairs
Members:
Dr. Roberta Howard Hunter, Research Associate, Teacher Education
Dr. Diana Haggerty, Research Associate, Food Science & Human Nutrition
Sponsor Committee
Chair:
Dr. Anne-Sophie Bohrer, Senior Research Associate, Great Lakes Bioenergy Research Center
Logistics & Communications Committee
Chair:
Dr. Christina Reppucci,
Research Associate, Psychology, Neuroscience
Members:
Dr. Yu-Ya Liang, Research Associate, Plant Research Laboratory
Dr. Xinya Fu, Research Associate, Plant Biology
Dr. Minako Izutsu, Research Associate, Microbiology & Molecular Genetics
Dr. Daniel Raba, Research Associate, Plant Research Laboratory
Abstracts Committee
Chair:
Dr. Christina Reppucci, Research Associate, Psychology, Neuroscience
Members: 
Dr. Christiana Asantewaa Okyere, Research Associate, Counseling, Educational Psychology & Special Education
Dr. Joseph Thekinen, Research Associate, School Of Planning, Design & Construction
Dr. Lauren Hardy, Post Doc, Pathobiology and Diagnostic Investigation
Dr. Nabin Rijal, Research Associate, Nat'l Superconducting Cyclotron Lab
Workshops Committee
Chair:
Dr. Anne-Sophie Bohrer, Senior Research Associate, Great Lakes Bioenergy Research Center
Members:
Dr. Philipp Grete, Reserach Associate, Physics & Astronomy
Dr. Sandra Hammer, Postdoctoral Fellow, Physiology
Dr. Johannes Weber, Research Associate, Computational Mathematics, Science and Engineering
Dr. Darwin A. Guevarra, Research Associate, Psychology
Dr. Md Nafiujjaman, Research Associate, Institute For Quantitative Health