Professional
&

Career Development
Graduate Teaching Assistant Teaching
&

Learning Community Programs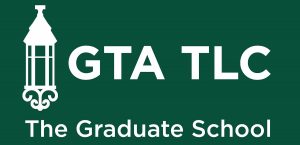 The Graduate Teaching Assistant Teaching and Learning Community hosts Virtual Lunch and Learn Sessions and postdocs are welcome to attend!
Virtual Lunch & Learn Sessions and Workshops
(11:45 am: Check- in and Community Connect) 
Session Description:
This talk is based on a book "Teach students how to learn" by McGuire and McGuire (2015). The book explains how we can teach our students to become better learners, such that they become very comfortable with the material, and this would improve their grades as well. The book summarizes the strategies good learners follow; it also points out why people are not able to develop interest towards the material. In this talk, Arya Gupta will discuss those strategies (both for teachers (to incorporate while teaching) and students (to use as learners)), along with the research findings of the effectiveness of those strategies. Some of the other research findings discussed are outside of the book but can be easily found. 
Presenter Bio: 
Arya Gupta is a doctoral student with the Department of Computer Science and Engineering, Michigan State University. His current research interests include Distributed Systems, Graph Theory, Theoretical Computer Science. He loves teaching Mathematics and Computer Science. With prior service for teaching assignments (as a TA) for three years, he has been serving as a GTA with CSE for more than one year at MSU (4 semesters). Arya is also a GTA Program Advisory Group Member.
Please register here to attend and we will send Zoom information, slides, and other relevant materials. 
Join Zoom Meeting
https://msu.zoom.us/j/732599810
Meeting ID: 732 599 810
Passcode: GTAsTeach
Other Sessions & Resources
MSU IT Educational Technology(D2L Self-enrollment)
Through self-enrollment in a D2L course "MSU Tools and Technologies D2L course",you can access the recordings of any previous workshops provided by MSU IT Educational technology and many helpful instructional tools and technologies(e.g., classroom technology, Camtasia and Snagit,KalturaMediaspace, Spartan Ally and many more). Learn more about using D2L here: Instructor – D2L Self-Directed TrainingIf you would like a one-on-one consultation for your course design or on any educational technology, please submit a service request with the MSU IT Service Desk and ask for the Instructional Technology and Development team.
MSU IT Return to Campus Resources: What you need to know 
As we return to campus this semester, MSU IT Educational Technology and its teams want to share some resources with our campus educators to help ease the transition back into the classroom. 
Scoring and Assessment Services 
The Scoring and Assessment Services team is available to help with test scoring, proctoring, Zoom technical support, D2L scoring support, and more. For more information on what the Assessment Services team can do for you, please visit their team page on tech.msu.edu or email scoring@msu.edu. 
About Classroom Microphones 
If you find yourself teaching in a classroom, please remember to wear the microphone that comes with that room's tech cart. If you have students conferencing into your class, this helps ensure they can hear you! If you wish to clean your classroom mic, there are wipes provided at your classroom's tech cart. Currently there are no plans to send instructors microphones individually. 
Instructional Technology Webinars 
Every month, the MSU IT Educational Technology holds workshops meant to help instructors use course technology in meaningful ways. February will have a variety of sessions covering tools like D2L, Zoom, and Kaltura Mediaspace. Visit our #iteachmsu Commons article for a list of workshops being held in February and for additional resources. 
Graduate Student Symposium (February 16, 2022)  
The Prevention, Outreach and Education (POE) Department, in partnership with the Graduate School, is hosting their first Graduate Student Symposium on February 16th, 2022 and would like to invite all MSU Graduate Students to participate in this afternoon of interactive and action-oriented workshops around prevention of harassment and discrimination. Registration is required. Sessions will be offered in-person from 2:00 to 6:00 PM at the MSU Union. After the workshops, all graduate students are invited to a networking event, followed by dinner, and music. Limited space available. Full schedule will be posted on the POE website soon!